Travel #43; Leisure: America's Best Stadium Food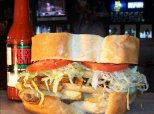 Authors: huffingtonpost FOOD
At the new Barclays Center in Brooklyn, sports fans can taste the best of the borough: pulled-pork sandwiches from chef Zak Pelaccio's Fatty 'Cue; tacos piled with beer-battered cod and mango salsa at Calexico, which began as a popular street cart; and smoky brisket dogs by Michelin-starred chef Saul Bolton.
"By tapping into the Brooklyn culinary scene and sourcing from local artisans and farms, the arena experience can be emblematic of a particular city or region," says Chris Granger, executive vice president of team marketing and business operations at the NBA.
The Barclays Center's concession stands, carts, and restaurants demonstrate how far food at stadiums and arenas across the U.S. has come since the days of industrial-cheese-drenched nachos and other standardized fare. Whether you're rooting for football or baseball, soccer or hockey, your stadium food choices are likely to come from hometown celebrity chefs and local gourmet shops, and incorporate regional ingredients and twists.
We surveyed sports writers like Law and and Buster Olney of ESPN The Magazine as well as sports-obsessed chefs and restaurateurs to come up with the sports stadiums whose food can be as satisfying as the action on the field. Read on for the winners.
--Ratha Tep
Loading Slideshow
CenturyLink Field, Seahawks/Sounders, Seattle (NFL/MLS)

<a href="http://www.travelandleisure.com/articles/americas-best-stadium-food/9" title="America's Best Stadium Food" target="_hplink">See More of America's Best Stadium Food</a><br><br> The Seattle Sounders soccer team has inspired a devoted following—and the highest average attendance among Major League Soccer. It may help that fans eat well at CenturyLink Field thanks to the representation of Pike Place Market favorites. Beecher's Handmade Cheese doles out hot, bubbly servings of its famed mac and cheese, while Uli's Famous Sausage prepares a daily sampler plate of its German-style links.<br><br> <strong>Wash It Down with:</strong> Pike Brewing's Monk's Uncle, brewed with organic malt and sugar, served at Craft House.<br><br> <a href="http://centurylinkfield.com" target="_hplink">centurylinkfield.com</a> <br><br><em>Photo: Courtesy Seattle Seahawks</em>

Turner Field, Braves, Atlanta (MLB)

<a href="http://www.travelandleisure.com/articles/americas-best-stadium-food/9" title="America's Best Stadium Food" target="_hplink">See More of America's Best Stadium Food</a><br><br> Star chef Linton Hopkins's Holeman & Finch Public House is infamous for selling only two dozen double-decker burgers nightly. But now, Atlanta's most sought-after burger, prepared with house-made ketchup, mustard, and bread and butter pickles, and nestled in a fresh-baked pain de mie bun, can also be had at Turner Field's H&F Burger (24 "Burger Fast Passes," or a guaranteed burger "reservation" are available each game). Beef aficionados can also get their fix at Kevin Rathbun Steak for the hometown chef's sirloin sandwich with horseradish cream. <br><br> <strong>Wash It Down with:</strong> SweetWater 420 Extra Pale Ale, an Atlanta microbrew—and favorite of Rathbun—is on draft at Tomahawk Tavern.<br><br> <a href="http://atlanta.braves.mlb.com" target="_hplink">atlanta.braves.mlb.com</a><br><br><em>Photo: Courtesy Turner Field</em>

Oriole Park at Camden Yards, Orioles, Baltimore (MLB)

<a href="http://www.travelandleisure.com/articles/americas-best-stadium-food/9" title="America's Best Stadium Food" target="_hplink">See More of America's Best Stadium Food</a><br><br> Since it became the Orioles home in 1992, this stadium has been largely credited with starting the league-wide trend toward serving regional cuisine in ballparks. The Maryland crab cake sandwiches from Charm City Seafood are a perennial fan favorite, while newer regional offerings include Maryland rockfish tacos from Dempsey's Brew Pub and Restaurant (partly owned by former Oriole Rick Dempsey), and a decadent hot dog topped with both mac and cheese and lump crab meat from Stuggy's.<br><br> <strong>Wash It Down with:</strong> Heavy Seas Loose Cannon, the Maryland craft brewer's exceptionally hoppy flagship beer, available at Dempsey's Brew Pub and Restaurant.<br><br> <a href="http://baltimore.orioles.mlb.com" target="_hplink">baltimore.orioles.mlb.com</a> <br><br><em>Photo: Courtesy Baltimore Orioles</em>

Target Field, Twins, Minneapolis (MLB)

<a href="http://www.travelandleisure.com/articles/americas-best-stadium-food/9" title="America's Best Stadium Food" target="_hplink">See More of America's Best Stadium Food</a><br><br> The three-year-old ballpark prides itself on community eats, including crisp, breaded walleye from an outpost of the popular St. Paul shack Mac's Fish and Chips, and bratwurst and sausages made daily from hometown favorite Kramarczuk Sausage Company. Feeling more adventurous? Local television and food personality Andrew Zimmern's AZ Canteen serves a lamb-and-goat burger.<br><br> <strong>Wash It Down with:</strong> Surly Furious, a hoppy, crimson-hued ale brewed in nearby Brooklyn Center, is on draft at the Twins Pub.<br><br> <a href="http://minnesota.twins.mlb.com" target="_hplink">minnesota.twins.mlb.com</a> <br><br><em>Photo: Courtesy Target Field</em>

Barclays Center, Nets, New York City (NBA)

<a href="http://www.travelandleisure.com/articles/americas-best-stadium-food/9" title="America's Best Stadium Food" target="_hplink">See More of America's Best Stadium Food</a><br><br> With 37 Brooklyn restaurateurs and purveyors represented, the new Barclays Center is as hyper-local as an arena gets. Head to Calexico for heaping tacos piled with beer-battered cod and fresh mango salsa; Fatty 'Cue for pulled-pork sandwiches; and Brooklyn Bangers for smoky brisket dogs by Michelin-starred chef Saul Bolton.<br><br> Wash It Down with: Brooklyn Brewery's East India Pale Ale and Lager, brewed in nearby Williamsburg, can be purchased at concession stands throughout the arena.<br><br><a href="http://barclayscenter.com" target="_hplink">barclayscenter.com</a> <br><br><em>Photo: Courtesy Levy Restaurants</em>

Miller Park, Brewers, Milwaukee (MLB)

<a href="http://www.travelandleisure.com/articles/americas-best-stadium-food/9" title="America's Best Stadium Food" target="_hplink">See More of America's Best Stadium Food</a><br><br> Miller Park is a bratwurst and hot dog lover's dream—approximately 85 percent of food sales are from the two alone. While a spicy chorizo brat from Klement's is an obvious choice, terrific non-sausage options include Guinness-marinated, two-day-roasted beer-can chicken at Ribbie's Café.<br><br> <strong>Wash It Down with:</strong> Namesake Miller beers, midwestern craft brews, or wines from Wisconsin vintner Wollersheim, including its crisp Prairie Fumé, available at all Bar Carts throughout the ballpark.<br><br> <a href="http://milwaukee.brewers.mlb.com" target="_hplink">milwaukee.brewers.mlb.com</a> <br><br><em>Photo: Andre Jenny / Alamy</em>

Heinz Field, Steelers, Pittsburgh (NFL)

<a href="http://www.travelandleisure.com/articles/americas-best-stadium-food/9" title="America's Best Stadium Food" target="_hplink">See More of America's Best Stadium Food</a><br><br> Primanti Brothers, the longstanding Pittsburgh institution created in the 1930s for local truckers who needed an entire meal on the fly, serves all its sandwiches—from its famed cheesesteak to its Capicola & Cheese—piled high with salty fries and crunchy sweet-and-sour coleslaw, nestled in between slices of thick-cut Italian bread. <br><br> <strong>Wash It Down with:</strong> Penn Pilsner, brewed at Penn Brewery, Pittsburgh's oldest.<br><br> <a href="http://steelers.com" target="_hplink">steelers.com</a> <br><br><em>Photo: Courtesy Primanti Brothers</em>
More from Travel + Leisure:
America's Best Baseball Stadiums
America's Most Sports-Crazed Cities
America's Best College Football Stadiums
World's Strangest Sports
Best Baseball Stadium Food
Follow Travel + Leisure on Twitter: www.twitter.com/TravlandLeisure
"; var coords = [-5, -72]; // display fb-bubble FloatingPrompt.embed(this, html, undefined, 'top', {fp_intersects:1, timeout_remove:2000,ignore_arrow: true, width:236, add_xy:coords, class_name: 'clear-overlay'}); });
back to top