Michelle Won: A Lesson in Cake Decorating Featured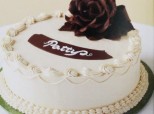 Authors: huffingtonpost FOOD
Who knew that cake decorating was so hard? Is that glib of me to say?
I mean, every cake I've ever seen, including the kind from Costco, has always had piping on it. I thought it was an easily imitated piece of culinary adornment.
Boy, was I wrong.
I got to take a private cake decorating course at Institute of Culinary Education with award-winning cake decorator and author of The Well-Decorated Cake and Professional Cake Decorating, Toba Garrett. She was a little gruff at first, which frankly made me like her better. I prefer not to be around bakers who are too bubbly sweet. It's just to much sugar to take in all at once. Nope, no giggles and no saccharine small talk; Toba is an educator. Authoritative and reminding me that she's been doing this for 30 years, she gave me a shotgun lesson on decorating.
Being reminded that I can't learn this in a day.
We spent an afternoon chuckling and playing with french vanilla butter cream. I'll spare you the horrifying final cake I produced, but instead here are a couple key pointers.
1. Get all the air bubbles out of your icing bag. If you have any air bubbles your shells and rosettes and other such adorable decorations will crumble like the Roman empire. Not pretty.
2. Do bicep and tricep curls. Cake decorating requires an inordinate amount of muscle control. You need to be able to squeeze, push and pull all in one go.
3. Practice hand-eye coordination. Sometimes you swirl to the left, sometimes you swirl to the right. In the end, you are not just drawing squiggles with a pointy bag. There is so much more to it.
So, that said, you came here for the recipe. This cake made my hard work all worth it. It's Toba's recipe and it tastes so good that it makes you feel like you are doing something bad.

Almond Paste Cake
by: Toba Garett
Tools: 5 or 6 Quart Mixer
Yields: 2, 10" cake layers or 3, 8" cake layers
Ingredients:
9 oz (255 g) unsalted butter, room temperature
6 oz (170 g) almond paste
24oz (680 g) granulated sugar
6 large eggs
1 ½ tsp almond extract
12 fl oz (340 g) whole milk
18 oz (510 g) cake flour
1 ½ Tbsp baking powder
¾ tsp salt
Instructions:
Preheat oven to 350°F (175-177˚C). Vegetable spray and parchment line three 8" (20.32 cm) cake pans. Set aside.
Cream the butter, almond paste and sugar for four minutes. Stop, scrape the bowl, and cream for 60 seconds more.
Add eggs, one at a time, to the creamed mixture. Beat in the almond extract.
Sieve together the flour, salt, and baking powder. Alternately add the flour mixture and milk to the creamed mixture. Ladle the mixture into the baking pans. This is a thick batter.
Carefully smooth the batter with a metal offset spatula. Hit the pan against the counter to burst any air bubbles.
Bake in the center of the oven for 45 minutes or until the cake slightly shrinks and a toothpick inserted in the center comes out clean.
Cake can last for three weeks in the refrigerator if wrapped well and can be frozen.

FRENCH VANILLA BUTTERCREAM
Tools: 5 or 6 Quart Mixer
Yields: 2 ½ to 3 lbs (1.13 to 1.36 kg)
Ingredients:
12 oz (340 g) of granulated sugar
6 fl oz (177 ml) whole milk
1½ Tbsp (3/8 oz) all-purpose flour
¼ tsp (1 ml) salt
1 Tbsp (15 ml) pure vanilla extract
3 fl oz (85 g) heavy cream
1¼ lbs (57 kg or 568 g) unsalted butter (cut-up)
Instructions:
Make custard by heating milk and sugar over a double boiler until sugar crystals dissolve. Remove from heat and add flour and salt and whisk until flour is incorporated. Place over an ice bath until the custard has slightly cooled.
Pour custard mixture in mixer bowl with paddle attachment. Add cut-up butter and heavy cream. Mix on LOW speed to fully incorporate ingredients or until mixture starts to thicken.
Mix on NEXT highest speed until mixtures starts to look light and fluffy. This can take 7 to 10 minutes or longer if making larger batches.
Store and refrigerate buttercream in an air-tight container. Freeze for up to 2 months.
Note: If the buttercream curdles, it will just take a longer time for the butter to warm-up. Continue beating until the butter softens and the mixture looks light and fluffy.
Toba's next cake decorating class starts on May 2nd. www.ice.edu
Follow Michelle Won on Twitter: www.twitter.com/michellewpark
"; var coords = [-5, -72]; // display fb-bubble FloatingPrompt.embed(this, html, undefined, 'top', {fp_intersects:1, timeout_remove:2000,ignore_arrow: true, width:236, add_xy:coords, class_name: 'clear-overlay'}); });
back to top