Sarah Dajani: Sun Dried Tomatoes From The Valley Featured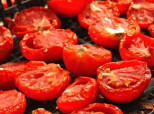 Authors: huffingtonpost FOOD
"This is a small project, just on the side."
I've been hearing that a lot in Jordan. "The kids aren't around for lunch today, they're out painting a school that we started for underprivileged children." "Sorry, I'm not free for coffee during the afternoons, that's when I tutor at the orphanage with my mother." "It's been my first summer in Amman for a while and I got bored, so I started an NGO collecting shoe donations for Syrian refugees."
Yeah, same here. I founded a school to teach the blind, you know, after I invented a large-scale solution to global warming and just before funding a few local village MFIs (that's
microfinance institution
, in case you didn't know). Except I actually did none of that while the quotes that I listed above are all very much real. I heard them with my own two ears. All in Jordan, and all within the last few weeks.
The latest example of these casual accomplishments is Sun Fruit, a "small side project" started by a friend named Mazen along with his father.
Back in the 70's, when much of the world was focused on how wide or narrow their bellbottoms should be, Mazen's father was introducing modern commercial farming to Jordan's agricultural community. He had just finished studying in Egypt and the UK and decided it was time to implement drip-irrigation techniques to the water-poor area surrounding the Jordan River Valley. That, along with greenhouses and mechanization of planting, became the basis of his agro-business Ur Garden that has now grown to include landscaping, herbs, fruits, and, more recently, sun-dried tomatoes.
It's a family production, this sun-dried tomato business. And like all good things, it's simple. You take a few ripe tomatoes, slice them in half, sprinkle them with salt, and then let the sun do its work. The salt prevents fungal growth and the sun-drying process can take anywhere from 3 to 4 days in the summer to about a week in the fall and early spring. Winter's not an option because, I assume, it's too cold, and the tomatoes which are anywhere from 89% to 93% water would just freeze up. And no one's interested in freeze-dried tomatoes, at least not anyone who isn't wearing a spacesuit.
After Mazen explained the process to me he plucked a wrinkled tomato half from the basket before us and handed it to me. I bit in and experienced something akin to a spiritual rebirth, if you will. As it turns out, fresh sun-dried tomatoes taste nothing like the crumbly bits of dark-red something that we usually find tossed into our salads. They are tart -- almost shockingly tart -- and delicately sweet. But the taste is a knockout-- like a dozen tomatoes packed into one bite.
In fact everything growing in that little nursery on the edge of the Jordan River Valley was an earthly revelation. Long stalks of citrusy lemongrass; sprigs of rosemary, oregano, and thyme; bay leaves (it's hard to believe that those dry leaves we find in supermarkets ever resembled 
fresh
bay leaves); and, Mazen's favorite, fist fulls of marjoram which smell like something between a wild rose and bergamot.
The morning ended with sweet tea and a visit to the garden office, where I met Mazen's lovely and entrepreneurial wife Tania. I'll save her story for another day, but suffice it to say that we bonded over a common affection for wild strawberries and the institution of the 
khodarji
, Amman's street vegetable stands.
And so here I sit, a few hours later, my pockets stained green from the herbs I smuggled home and my shoes caked with patches of dried mud. I'm contemplating sticking a sprig of rosemary in my pillowcase, so I can have something nice to fall asleep to later this afternoon.* And I'm wondering what the best recipe would be for a precious handful of sun-dried tomatoes. I'll let you know what I come up with.
Practicalities:
Sun Fruit sun-dried tomatoes can be found at Spinney's, Miles, and Cozmo supermarkets in Amman
Ur Garden landscaping services
*Did you know that in Arabic an afternoon nap is called an ta'aseelah, which literally translates to "a little honey"? I'm not sure what the etymology is for that one, but if you allow me to make something up, I would like to say that it's because there's nothing sweeter than a little nap, except maybe a bit of honey.
back to top