Liza de Guia: The Best Baguettes Around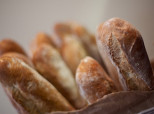 Authors: huffingtonpost FOOD
"There's something about smelling bread that touches the atavistic impulses inside of us and comforts us."
Meet Judith Norell, the baker and owner of Silver Moon Bakery, a small neighborhood bakeshop located on the Upper West Side of Manhattan.
For Judith, baking bread is a calling - it's not work to her - it's more like her art and her joy. It's fun watching her get lost in it too. She's so poignant about something so seemingly simple. And when Judith talks about bread, her face lights up! It literally lights up. You'll see it happen in the first few moments of the video. It's the coolest thing. To find so much passion in someone's eyes, it's moving...
Silver Moon Bakery's baguettes are, hands down, my favorite baguettes in New York City. There's nothing like 'em. To me, they have the perfect texture, perfect flavor and crunch. I hope you stop by to pick up a baguette or two. You won't regret it.
Hope you enjoy the video story!

Silver Moon Bakery
2740 Broadway (at the corner of 105th Street)
New York, NY 10025
Thanks so much for watching and supporting food. curated.! Happy Eating!
Follow Liza de Guia on Twitter: www.twitter.com/SkeeterNYC
"; var coords = [-5, -72]; // display fb-bubble FloatingPrompt.embed(this, html, undefined, 'top', {fp_intersects:1, timeout_remove:2000,ignore_arrow: true, width:236, add_xy:coords, class_name: 'clear-overlay'}); });
back to top