Lisa Diggs: Serve Michigan Food and Drink This Holiday Season Featured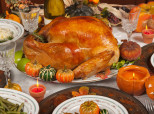 Authors: huffingtonpost FOOD
If you're going to find yourself in a grocery store buying food to entertain family and friends this month, you are certainly not alone. Most of us tend to eat more during the holiday season, so it stands to reason more money will be spent on food and beverages. An upside to all of that indulgence is that we can give our local economy a boost if we make a conscientious effort to buy Michigan products.
At this time of year, with less fresh produce available, there may be a temptation to stop reading labels or revert to national brands to fill our tables, but it doesn't have to be that way. Everything from turkey to potatoes, cranberries, onions, beans, pumpkins, squash, milk, cheese, beer, wine and so much more can be found from Michigan companies.
The Buy Michigan Now Grocery Guide is a great resource to save time identifying local options. The categories are designed to replicate common grocery aisles.
Another helpful hint is that many stores are now using shelf tags or stickers to identify Michigan-made products. Keep an eye out for those in your favorite market or ask an employee how they identify those products for customers if it isn't obvious. Fortunately some products themselves now ship with Made in Michigan on their packaging to make them easier to spot.
Let's talk turkey. Michigan has quite a few turkey farms where consumers can purchase fresh turkey. Sometimes those orders have to be placed well in advance, so you can also look for turkey products from the Michigan Turkey Producers, a co-op of family-owned turkey farms throughout the state.
Ham is another popular alternative as a main course. You can find many local brands of ham including Winter's, Dearborn, and Kowalski. Those companies, along with Koegel's and Alexander and Hornung also produce a variety of meats popular as entrees, cold cuts, or as appetizers.
You can't go wrong complementing your main course with locally grown potatoes. The most common varieties to find in your local market are white, russet, and yellow. Actually, the majority of the potato crop becomes tasty chips, so serving up some Detroit area favorites like Better Made, Uncle Rays, or Downey is another way of supporting local farmers.
Homegrown cranberries are a relatively new opportunity in the Great Lakes State. While a little bit harder to find, some markets have begun to carry them. The Michigan Cranberry Company, formed on an abandoned peat mining operation near Lake Huron in Cheboygan County, is the largest cranberry marsh in Michigan. They harvest over three million pounds of cranberries!
This time of year, also means the availability of several winter squash like acorn, butternut, buttercup, hubbard, and spaghetti. On the other hand, if you prefer to opt for canned goods, Eden Foods is an excellent resource. The company offers nearly every bean imaginable, as well as tomatoes, pasta, sauerkraut, fruit juice concentrate, spices, and much more.
Topping off a holiday feast is a joy in and of itself. If you like to bake there are awesome ingredients readily available. Fresh apples and pumpkins make spectacular pies. You can also make use of local brands like Big Chief and Pioneer sugars, Jiffy mixes, and fresh dairy products from companies such as Calder, Bareman's, and Guernsey.
If you'd rather make a call than bake a pie, order up amazing desserts from Achatz or Grand Traverse pie companies. You also can't go wrong with anything baked by the fine folks at Zingerman's, and in my house, it wouldn't be a holiday without Sander's Bumpy Cake.
Sanders is of course known for their candy too, which is always great to have on hand, or to bring to someone else's home if you're the guest. Kilwin's, Truan's, and Kelly's Karamels make for delicious options as well.
Sometimes it's all about serving snacks instead of a full meal. Garden Fresh makes tremendous tortilla chips, salsas, and guacamole, or a nice big bowl of pistachios from Germack is always a hit.
No matter what you're serving, your guests will want to wash it down with a tasty beverage. Before you reach for a national soda brand, consider pop from Faygo or Town Club or keep some Absopure water on hand.
When it comes to stocking the bar, you can find numerous outstanding beer choices. Some of the more widely available brands include Short's, Bell's, Founders, Arcadia, and Atwater. If brunch is more your holiday style, check out McClure's bloody mary mix with a splash of vodka from Valentine.
Last, but not, least, how about a delicious Michigan wine to pair with your bevy of fine foods? There are so many wineries from which to choose, I can't possibly name them all, but here again are a few of the more commonly found brands in Detroit area markets: St. Julian, Tabor Hill, Chateau Grand Traverse, L. Mawby, Black Star Farms, and Leelanau Cellars.
Have a great time with your family and friends this season and treat them to some of Michigan's finest. It's a spectacular opportunity to revisit old traditions and to start some new ones.
Follow Lisa Diggs on Twitter: www.twitter.com/Lisa_Diggs
"; var coords = [-5, -72]; // display fb-bubble FloatingPrompt.embed(this, html, undefined, 'top', {fp_intersects:1, timeout_remove:2000,ignore_arrow: true, width:236, add_xy:coords, class_name: 'clear-overlay'}); });
back to top