Elise Sax: Cupcakes No More! Featured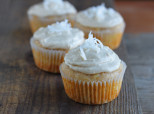 Authors: huffingtonpost FOOD
Enough already with the cupcakes. America, you have gone overboard with these pastries. They have their own television shows, Sex and the City tours and assorted overpriced accessories. Does this children's birthday party, go-to dessert really deserve to be individually wrapped in a Tiffany look-alike box?
Come on, if we're honest with ourselves, we will admit the attraction of a cupcake is all about the high frosting to cake ratio. With the desire to dip our plastic spoons into a tub of Duncan Hines chocolate buttercream pushing at our cerebral cortex, we feel positively civilized to stand in line for an hour in the West Village to eat a frosted bit of cake.
Tiny bit of cake, huge pile of frosting. Yes, it's good. But get a grip!
This is not the first time we have been swept up in a wave of sweets hysteria. Remember the whole Tiramisu era? I bet you feel embarrassed about it, now. I know I do.
So what to do? Pies are wholesome, but may taste too small-town for some. Chocolate -- an indispensable part of anybody's first aid kit -- has reached wine and olive oil snobbery levels. Ice cream is universally enjoyed, successfully crossing all social, economic and cultural barriers, but it suffers from limited portability. Sour Patch Kids is obviously the perfect food, but is not yet socially acceptable for anyone over the age of 13.
So where to go from here?
The cookie.
That's right, the friendliest of pastries. The Walmart greeter of desserts. We need to return to the cookie. Nobody can hate a cookie. While cupcakes are engaged in Cupcake Wars on TV, the cookie is hanging back like the Switzerland of sweets. Content to be the cupcake's far less snooty cousin, the cookie has been biding its time, but it's time for resurgence.
Sure, cookies suffered from a blast of the wrong kind of popularity when Mrs. Fields tried to raise them to gourmet status, but even through that unfortunate time, the cookie managed to retain its integrity. You can rely on a cookie. Fads come and go, but the cookie never lets you down.
So, the next time you are gripped with a desire for a frosting in a designer box, don't rush towards the cupcake. Go for the cookie. Chocolate chip or snickerdoodle, I have a secret for you... They can be frosted!
Follow Elise Sax on Twitter: www.twitter.com/@theelisesax
"; var coords = [-5, -72]; // display fb-bubble FloatingPrompt.embed(this, html, undefined, 'top', {fp_intersects:1, timeout_remove:2000,ignore_arrow: true, width:236, add_xy:coords, class_name: 'clear-overlay'}); });
back to top