Would You Pay $500 For A Burger? Featured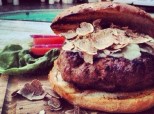 Authors: huffingtonpost FOOD
This meal is for one percenters with 99-percent tastes.
The humble hamburger is getting a $500-dollar upgrade at the Avalon Hotel's Oliverio restaurant in -- where else? -- Beverly Hills, Calif.
Called the "Hamburger al Tartufo," the dish celebrates white truffle season by cramming the fancy fungus into almost every possible aspect of the beast. The burger patty is made with 12 ounces of Kobe beef then topped with truffle-infused cheese. On top of that, two more ounces of shaved white truffles, because why not?
The dish is so expensive that the restaurant requires diners to order and pay for it 48 hours in advance.
The Oliverio burger far surpasses the previous record for the most expensive burger. Last May, the Guinness Book of World Records certified that a $295 burger from Serendipity 3 restaurant in New York was the "world's most expensive burger." It incorporated white and black truffles, as well as caviar and cheese aged 18 months. Of course, the gourmet ingredients probably didn't rack up the cost as much as the accessory that came with the meal -- a solid gold "Fleur de Lis" toothpick, encrusted with diamonds.
Ridiculous as it may seem, the proceeds from Serendipity 3's burger were donated to the Bowery Mission, a homeless shelter in New York. Oliverio restaurant confirmed to The Huffington Post that their hamburger al Tartufo is expensive simply because the ingredients are rare and seasonal.
For those in the Los Angeles area that want to chow down on a tasty burger without defaulting on next month's rent, check out this year's fresh meat.
Loading Slideshow
Plan Check

<a href="http://www.plancheckbar.com/" target="_hplink">Plan Check</a> 1800 Sawtelle Blvd Los Angeles, CA 90025 Pictured: The Plan Check Burger - Akaushi red wagyu beef, Americanized dashi cheese, ketchup lether, mixed pickles, crunch bun. $10

Spice Table

<a href="http://www.thespicetable.com/" target="_hplink">Spice Table</a> 114 S. Central Ave. Los Angeles, CA 90012 Pictured: The Spice Table Cheeseburger - Ground short rib, curried pickled cucumbers, fried shallots, mustard aioli,sambal, lettuce, tomato and Kraft American Cheese. $13

Short Order

<a href="http://www.shortorderla.com/" target="_hplink">Short Order</a> 6333 W. 3rd st. Stall #110 Los Angeles, CA 90036 Pictured: Nancy's Backyard Burger - Nancy Silverton's dry-aged beef blend, North Country Smokehouse applewood bacon, Comte, avocado, heirloom tomatoes, onion, iceberg lettuce, spicy mayo. $14

Mess Hall

<a href="http://www.messhallla.com/">Mess Hall</a> On the corner of Los Feliz Blvd. and Hillhurst Ave. Pictured: "Mess" Burger - slow onions, Vermont cheddar, B&B pickles, smokey sauce, brioche, fries, according to food blog <a href="http://www.kevineats.com/2012/09/messhall-los-angeles-ca.html" target="_hplink">KevinEats</a>. $15

Black Hogg

<a href="http://blackhogg.com/" target="_hplink">Black Hogg</a> 2852 W. Sunset Blvd. Los Angeles, CA 90026 Pictured: Lamb Burger - Onetik bleu, fries. $17

Industriel

<a href="http://industrielfarm.com/">Industriel</a> 609 South Grand Ave Los Angeles, CA 90017 Pictured: Industriel Burger - Roquefort fondue, bacon, balsamic onion, arugula, brioche. Available during Lunch and Brunch. The restaurant will also offer the burger as a dinner special Tuesday in honor of National Cheeseburger Day for $14, or $17 with choice of Warsteiner Dunkle or Kronnenberg 1664 beer option.

Towne

<a href="http://towne-la.com/" target="_hplink">Towne</a> 705 W. 9th St. Los Angeles, CA 90015 Pictured: Ground Brisket Burger - onion marmalade, Tellagio, pretzel bun. $12

Fusion Burger

<a href="http://fusionburgersla.com/" target="_hplink">Fusion Burger</a> 5933 York Boulevard, Los Angeles, CA 90042 Pictured: The House Burger - Home thousand island, green leaf lettuce, oven dried tomatoes, pancetta, cheddar cheese. $9

Fuku Burger

<a href="http://www.fukuburger.com/" target="_hplink">FUKU BURGER LA</a> 1634 Cahuenga Boulevard Los Angeles, CA 90028 Pictured: Standard Fuku Burger - Fuku patty, Tillamook cheddar cheese, lettuce, tomato, picked red onions, Fuku sauce and wasabi mayo. $9 Sumo burger - supersize any burger (to 2/12 pounds) at Fuku Burger $40. If guests finish it within 10 minutes, the burger is complimentary and they also receive a free t-shirt and the chance to win "Fuku for life."
Also on HuffPost:
"; var coords = [-5, -72]; // display fb-bubble FloatingPrompt.embed(this, html, undefined, 'top', {fp_intersects:1, timeout_remove:2000,ignore_arrow: true, width:236, add_xy:coords, class_name: 'clear-overlay'}); });
back to top