Our 10 Favorite Food Bloggers Of October Featured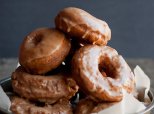 Authors: huffingtonpost FOOD
It's hard to imagine a world without food bloggers. But less than a decade ago, the food blogosphere was not as plentiful as it is today (to say the very least). Before the wealth of food blogging came to be, we mostly had to turn to cookbooks and family recipes for cooking inspiration. While that was all well and good, looking back on it now it seems rather limiting.
Food bloggers have brought creativity, personality and confidence to the home cooks scene. Since most food bloggers have day jobs like the rest of us, they inspire those who like to cook to take the time and make the effort to try new things in their own kitchen. We're grateful for food bloggers. And to show our love, here are our 10 favorite for the month of October.
Loading Slideshow
Pastry Affair

It's hard to pinpoint what we like best about the food blog <a href="http://www.pastryaffair.com/">Pastry Affair</a>. It could have something to do with her delicious and dependable recipes. Or maybe it's the breathtaking and naturally-lit photos. Though it could also have something to do with the fact that she was once well on her way to becoming an astroparticle physicist. It must make you a wiz at baking.

Bake Your Day

We couldn't help but fall in love with the creations from <a href="http://www.bakeyourday.net/">Bake Your Day</a> since she's the creator of Sriracha biscuits, Sriracha sesame ginger popcorn and sriracha vinaigrette. According to Cassie, the blogger, Bake Your Day is all about her adoration for food, for people and for life.

Love And Olive Oil

<a href="http://www.loveandoliveoil.com/">Love and Olive Oi</a>l are a husband and wife team who make dishes that make us wish we could reach into our computer screens and chow down. They are the authors of <a href="http://www.cookiedoughlovers.com/">The Cookie Dough Lover's Cookbook</a> and have a new book coming out February 2013.

Portuguese Girl Cooks

Food Blogger <a href="http://www.portuguesegirlcooks.com/">Portuguese Girl Cooks</a> comes from a baking background, having learned about the art from her grandparents who owned a pastry shop. Their effect on her cooking skills are clearly evident in her beautifully-shot blog.

Foodess

Both savory and sweet dishes worth making can be found on <a href="http://www.foodess.com/">Foodess</a>. The blogger describes her blog like this, and we think she puts it quite eloquently: "Foodess is a gathering place for friends around good food. It's a cooking & baking blog centered on my personal penchant for comfort food, with a hearty injection of tips amassed through a career in recipe development. "

Simply Scratch

If you want to know what ketchup taste like when it's not Heinz, or curious on how to master a pie crust, <a href="http://www.simplyscratch.com/">Simply Scratch</a> has got your back.

Averie Cooks

Averie of <a href="http://www.loveveggiesandyoga.com/">Averie Cooks</a> used to focus on vegetarian, vegan and raw recipes but now has found more passion in baked goods. Whether you're looking for either one of those types of recipes, you'll find a lot of inspiration on her blog.

Table For Two

We first became aware of the great food blog <a href="http://www.tablefortwoblog.com/">Table For Two</a> because of her Pretzel Baguette with Mustard Butter recipe. After that, we were hooked. Julie, the food blogger, is a web designer and developer but clearly has a real love for all things food.

Pass The Sushi

The maker of the Grilled Mac & Cheese with Pulled Pork is <a href="http://passthesushi.com/">Pass The Sushi</a>. This woman is daring in the kitchen -- and we respect that.

Better With Butter

Not only do we love <a href="http://betterwithbutter.com/">Better With Butter's</a> choice of blog name, but her food photography and styling is breathtaking.
Also on HuffPost:
"; var coords = [-5, -72]; // display fb-bubble FloatingPrompt.embed(this, html, undefined, 'top', {fp_intersects:1, timeout_remove:2000,ignore_arrow: true, width:236, add_xy:coords, class_name: 'clear-overlay'}); });
back to top