Are You Holding Your Weights Wrong? Featured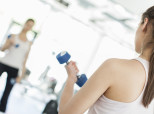 Authors: huffingtonpost fitness
If, during your workout, you're gripping your hand weights like the car steering wheel during a blizzard, then you're probably holding them wrong.
What's wrong with making sure your dumbbell doesn't go flying into the woman next to you?
It's just that your wrist is probably doing more of the work than your biceps, say experts. And clenching your wrist joints probably isn't why you're lifting at Barry's Bootcamp, Physique 57, Refine Method, or Flybarre.
And that's way too much pressure on a small joint, says Kara Liotta, the director of training of Flybarre, who helped us illustrate what weights should look like in your hand if you want them to tone your muscles. Read on... —Melisse Gelula
Photos: Melisse Gelula for Well+Good
back to top