Evidence That Whisky Can Solve The World's Problems Featured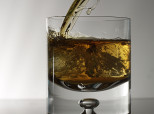 Authors: huffingtonpost FOOD
Finally, there's evidence that whisky is good for the world.
Scientists have figured out a way to convert waste from whisky distilleries into biofuel to power cars and trucks, according to the creators of Celtic Renewables, a new startup that's trying to commercialize the process.
Unlike regular biofuel producers, Celtic Renewables doesn't use corn or other crops, the company's CEO Mark Simmers tells CBS. That's helped it dodge critics of the industry who call out similar companies for using farmland in poor nations to produce biofuel, CBS reports.
Tullibardine Distillery, an independent whisky producer in Scotland, has agreed to give its leftovers to Celtic Renewables for free, the BBC reports. "It takes a cost to us and turns it into something that has social as well as commercial value," Douglas Ross, managing director of Tullibardine, tells the BBC.
Celtic's technology may lead to Scotland's 100-plus distilleries feeding a 60-million-pound (roughly $100 million) industry, Reuters reports. The company will reportedly settle on the site of its new processing plant by the middle of next year, with plans to tap nearby whisky distilleries for their waste.
One-year-old Celtic Renewables tells CBS that its product can be used in any unmodified vehicle on the road, unlike other types of biofuel, which drivers can only use in modified vehicles.
Simmers isn't the only entrepreneur who's trying to use food to make the world a greener place. Andras Forgacs, the co-founder of Modern Meadow, announced his company's plans earlier this year to produce 3D bioprinted cuts of meat for human consumption. Producing meat "in vitro," the startup said, is far less damaging to the environment than conventional methods of meat production.
Also on HuffPost:
"; var coords = [-5, -72]; // display fb-bubble FloatingPrompt.embed(this, html, undefined, 'top', {fp_intersects:1, timeout_remove:2000,ignore_arrow: true, width:236, add_xy:coords, class_name: 'clear-overlay'}); });
back to top